STARTERS

Black Crostini (or spleen Crostini):

Spleen sauce spread over small slices of toasted home-made bread. The sauce is prepared with beef spleen, onion, white wine, anchovies, capers, salt and pepper.


Bruschetta:

Large slices of grilled home-made bread seasoned with garlic, pepper, salt and olive oil.







FIRST COURSES
Panzanella

This delicious Tuscan salad is fresh and easy to prepare. It is prepared with wet bread, vinegar, oil, salt, pepper, tomatoes, onion and basil.

Ribollita

This soup, which is cooked twice, is then seasoned with oil, pepper and slices of fresh onion.





Pici

They are home-made pasta prepared with flour, water and salt. The dough is kneaded roughly by hand so as to form string-like pasta slightly thicker than spaghetti.




Hare Pappardelle

Pappardelle ( long broad type of pasta) with hare sauce. The hare, which is first marinated and slowly cooked in the marinade with Chianti wine and "coratella", is then broken and served together with the thick sauce.





SIDE DISHES:


Pecorino cheese from Pienza

This cheese is produced from the sheep milk of the special graze from Crete di Siena, in the Orcia Valley. Here grows a wide range of aromatic herbs such as wormwood, barbarecco and mentasastro which give a unique flavor to the cheese. There are different types of pecorino cheese, based on maturing times: it can be either fresh, semi-matured, matured and with spices.



Pork steaks

The steak is fried with garlic, tomato sauce, red wine and fennel seeds.




Florentine steak

It is one of the most famous Tuscan dishes mainly due to its peculiar preparation. The large grilled t-bone beef steak is in fact not completely cooked.



Fegatelli (pork liver)

The roasted pork liver is cut, wrapped in a "rete" (net) and seasoned with fennel seeds, salt and pepper. It is then either grilled or roasted.



Tagliata ai ferri (grilled steak)

The steak is marinated together with olive oil and garlic. After being grilled and cut into thin slices, it is seasoned with lemon juice and rocket.



Fagioli all'uccelletto (beans)

"Cannellini" cooked together with sage, garlic, olive oil and tomatoes. This typical side dish is usually eaten with sausages.





DESSERTS

Tiramisù

It is one of the most famous Italian desserts and is prepared with mascarpone (full-fat cream cheese) and "Savoiardi" (sponge finger biscuits) soaked in coffee.



Zuppa Inglese

This dessert can be prepared in several ways. In the modern version it is prepared both with cream and chocolate.





Cantucci and Vin Santo

Vin Santo is a typical dessert wine usually to be drunk with "Cantucci", delicious Tuscan biscuits.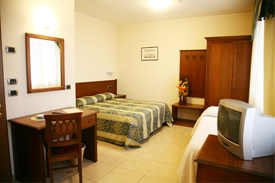 Our hotel offers 17 large and comfortable rooms. Each room has air conditioning....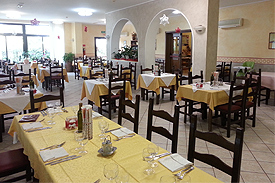 The restaurant is made up of a large air conditioned room and an outdoor terrace...