Montepulciano is situated in the south of senese Tuscany, among the Orcia Valley, the "Crete Senesi" and Valdichiana Valley.
One of the major advantages of our position is that we are not far from some of the most important Tuscan towns, such as: Siena, Florence, Pienza, Montalcino, San Quirico d'Orcia, Orvieto, Lago Trasimeno, l'oasi LIPU of Montepulciano lake and theEtruscan tombs of Chiusi.
As regards art, Montepulciano is also known as the "Pearl of the VI th " Century because of its famous renaissance monuments which were built thanks to the town glorious past.

The town has been mainly owned by Florence through its rich noble men andLorenzo il Magnifico. Lorenzo il Magnifico promoted both commercial and cultural development through taking Agnolo Ambrogini (better known as Poliziano) to his court.
The breathtaking countryside which surrounds Montepulciano is characterized by hills, vineyards, olive groves, lakes and picturesque ancient medieval towns.


Mother nature has been extremely generous with our territory: our vineyards produce one of the most famous wines of the world, "Nobile di Montepulciano", together with the "Brunello" of Montalcino and the "Chianti" of Florence. Other famous Tuscan products are Chianina meat, extra virgin olive oil and Pienza's "Pecorino" cheese.
You will be able to taste the most famous Tuscan dishes and wines in various restaurants, "trattorie" and wine shops of Montepulciano town centre .
We will be waiting for you in Montepulciano, where you will be able to discover new dishes and learn more about our traditions, art and culture.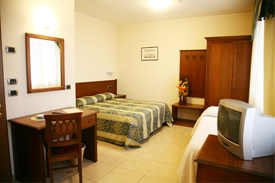 Our hotel offers 17 large and comfortable rooms. Each room has air conditioning....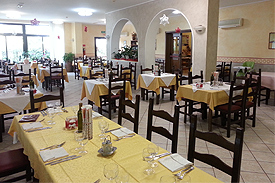 The restaurant is made up of a large air conditioned room and an outdoor terrace...